Challenge



Concerning information, data and knowledge management organizations and enterprises fight against typical problems such as:
Huge volume of unstructured and structured documents
Huge volume of unstructured and structured documents
Use of different technologies for information management
Time and cost consuming document processing
Decentralised archives
And many more

Users in general spend a great amount of time searching through the organization's document content instead of producing required output and fulfilling given tasks. Management of information logistics represents a key target for the improvement of internal and external business procedures and the quality of customer services.


Solution



Centralised, intelligent e-based Document and Workflow Management (DMS) can turn all documents into accessible & beneficiary assets by providing the user with the right information at the right point of time on his desk - exactly when he needs it. In this way his desk is turned into a real integrated workplace, from which he may access all information required to fulfil his job whether they are in archived documents, legacy systems or his individual work place. Combining extended Document Management with Workflow Management and - if so required - electronic channels, will provide exactly this, resulting in true real time business. The implementation of such an integrated solution will bring many benefits that ensure a quick return on investment
Easy and fast access to information
Productivity increase
Cost reduction
Increased reliability and integrity of processes
Worldwide accessibility
Knowledge networking
Transparency and security

Organisations of any size and type benefit from the implementation of tailored, suitable DCM software solutions.

G&C has evaluated many best of breed out-of-the-box DMS solutions and has chosen to market and sell the DriveU Suite from IFN, a modern, easy-to-use system with a proven industry record and the only offering – among other industry solutions – of an out-of-the-box version specifically adjusted to the needs of the financial and banking industry. It has many competitive advantages, not least being based upon the strong and secure FileNet platform.

DriveU Suite - the new generation of DCM, developed to provide integrated Document and Workflow Management services - represents and fully contains all the features required for fast and effective document, workflow and knowledge management. The sophisticated and comfortable capturing and indexing features, on-line access via client/server or intranet/internet, automatic indexing options, MS-Office integration and many other features make the system easy-to-use, allow for quick user acceptance und early return-on-investment.

The workflow support is based on the central archive and adjusts to the company needs. The DriveU Suite allows both to either strictly define, control and automatically proceed the individual workflows - in order to leave minimum room for deviation from the optimal processing flow - or a more flexible approach that leaves more freedom and responsibility for proceeding the individual case enabling the user to flexibly respond to new or extraordinary situation. Whichever scenario is more appropriate for the individual organisation, DriveU Suite will support it.

Integration with portals, legacy systems, external databases for additional ad-hoc information, index verification etc. are further features included in the DriveU Suite.




Our Approach



Our approach is based on the set of subsequent phases that allows setting up the system exactly according to the users' business needs ranging from the ordinary to the mission critical, while eliminating redundant and time consuming manual steps.
In the Planning Phase we study the current situation and discuss and confirm the requirements of the organisation. Based on this we suggest a customised set of implementation steps that will step-by-step implement the scope of functionality that provides the most economic and effective solution to the client's needs. The gradual approach allows to pocket the first benefits at an early stage, to always keep control of the implementation process and to carefully acquaint the users with the new technology. A standard set of implementation steps is outlined below showing the full range of implementation options. However, the steps and their sequence will be adjusted to the unique client needs in each individual case.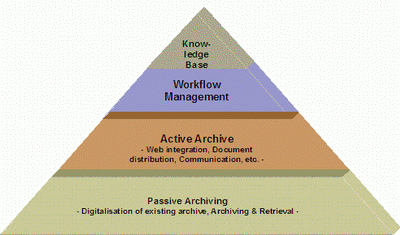 "Passive Archiving": During this step the system is set up to act exactly like today's paper archive - only using a different technology. This step is designed to ease the migration from the status quo to the new solution by leaving any organisational procedures and processes untouched. The step contains the digitalisation of any existing paper (or migration of a previous electronic) archive that should form part of the new electronic archive and archiving newly arriving documents (paper & electronic). This step already provides measurable benefits in terms of reduced search time for documents, availability of the latest version, reduced need for paper copies etc.


"Active Archiving": This steps means exploiting the options and features of active content management. These features allow a wide range of productivity gains through e.g. automatically receiving, indexing, archiving and distributing incoming faxes and emails, automatically distributing centrally scanned daily mail, forwarding documents from one employee to another via the archive according to pre-defined criteria, integrating preferred business partners on-line via dedicated, specifically access controlled parts of the archive, web and portal integration and many more.


"Workflow Management" - This step finally includes an adjustable virtual reflection of the existing organisational structure to support the decision-making, business and work processes over their life-cycle, collaboration of activities that were in the past represented by separate and partial applications (Image Archiving, Content Management, Organisational Archive, Messaging, etc.).


"Integration with Legacy Systems": This step goes beyond the accessing of legacy systems for index verification or automatic indexing that is already set up in Step 1. Rather this step is designed to provide the user with an integrated work place with all the information he needs to fulfil his personal tasks or take the required decision, independently whether the information is residing in the legacy systems' data bases or within an archived document.


"Knowledge base" - This step intends to network all internal and external knowledge by including non-procedural information into the archive such as job descriptions, project and procedure descriptions, examples, templates, experience reports, FAQs, external knowledge etc. This way, knowledge can be shared within the organisation, and the quality of results may be enhanced while reducing response times, work effort and errors.


Archive functionality together with the automation of processes, web integration and knowledge management results in a comprehensive "enterprise content management (ECM)" in terms of internal and external business activities.



print version